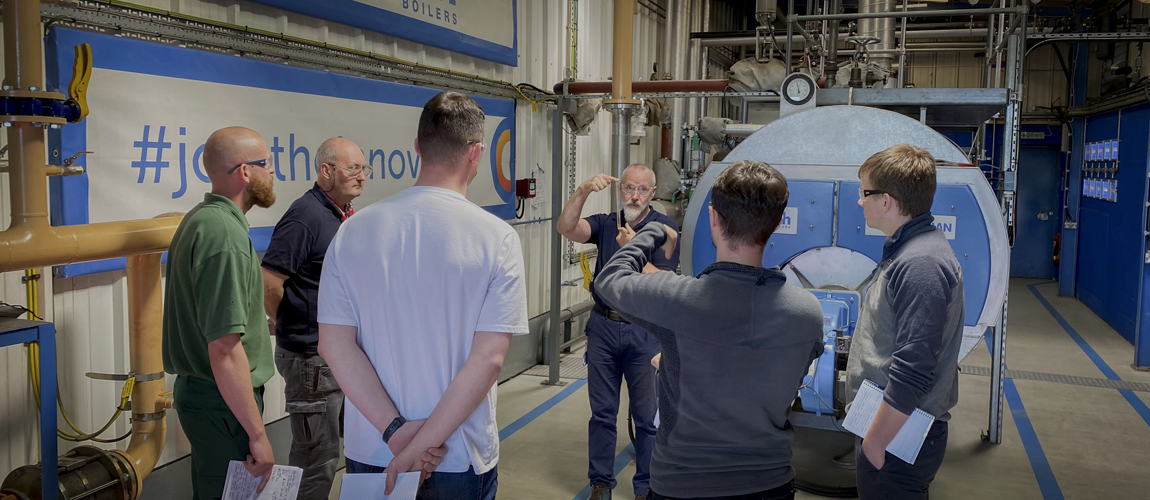 A new offering from the Byworth Training Team
City and Guilds Assured Training
We are pleased to confirm that from mid 2022 Byworth Boilers will be offering a Safe Operation and Management of Industrial Steam Boilers training programme Assured by City & Guilds
Incorporating both practical and classroom-based learning, this new and exciting approach to boiler training ensures you will have the opportunity to engage with the trainer, the equipment, and the learning process.
This course is designed to give candidates a thorough understanding of the boiler house and industrial boiler operation and management, giving operators the knowledge required to confidently operate their own equipment safely and efficiently.
At the end of each section of learning there will be a short online test or practical assessment. Assessing the course in this way reduces the stress and anxiety that can be caused by an end point assessment and allows candidates to focus on the key learning points from each module. The practical elements of the course will be assessed by industry professionals with many years of experience working within the boiler house environment. The 12 teaching modules are logically arranged to cover the boiler system from cold water supply, through control, and ending with the basics of boiler management. The key learning points for the course are detailed below.
Understand legal responsibilities relating to steam systems
The ability to interpret, test & manage water treatment

Read & interpret combustion results, recognising good combustion

Diagnose & fix common water level issues

Calibration, testing & setting of blowdown systems

Carry out Daily & Weekly testing

Recognise & deal with emergencies, safely re-start the system

Recognise & understand the basic components of a steam system

Manage the steam system to return optimum efficiency

Where to start with risk assessment

Future technologies (metering & control)

Course day to day summary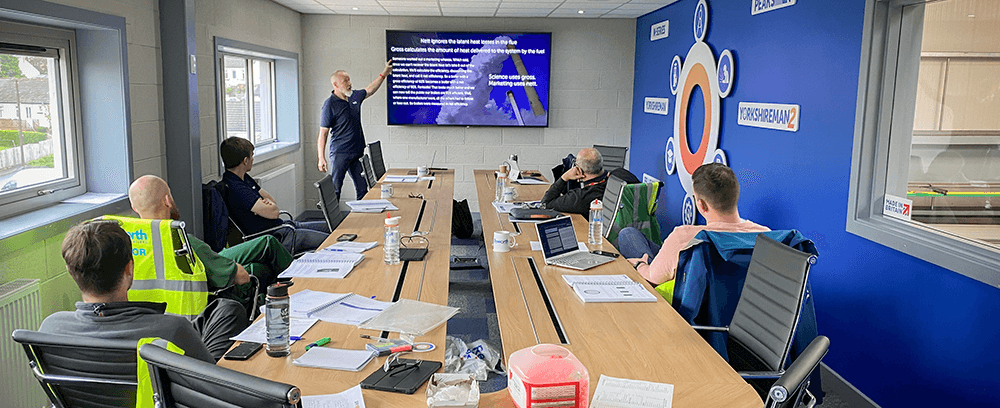 Day one of our new City and Guilds Assured training course is centred around water treatment and you will cover the following:
Primary Treatment
Feedwater
Water Treatment Workshop
Boiler Construction
Exam on modules covered
Day two is another hands on learning experience which will incorporate:
Full tour of our manufacturing facility. Flat plate to complete boiler
Combustion
Control and integrity
Boilerhouse practical tour
Blowdown systems
Exam on modules covered
On day three of our new Safe Operation & Management of Industrial Steam Boilers course candidate will cover the following:
Steam Systems
Practical, setting up the boiler house for the afternoon session
Procedure frequent
Practical evaporation and systems warm up
Procedures Infrequent
Exam
By day four, candidates will have a good understanding of the boiler house, procedures, and water quality and treatment. So now the course will move on to focus on the safe operation and management of the boiler. The structure for day four will be:
Boiler Operation
Legislation and Safety
Identification of equipment and risks
Boiler Management
The final day on the new Safe Operation & Management of Industrial Steam Boilers training programme will be focusing on assessments.
By day five individuals will have gained the relevant knowledge, skills and experience required for safe operation and management of a boiler house and will then complete the final examinations based on their week of learning.
To secure your place on this learning journey contact our training team on training@byworth.co.uk ⠀
Not sure which boiler is right for you?
Call us on +44 (0)1535 665225 and we will advise you on the best product for your needs.