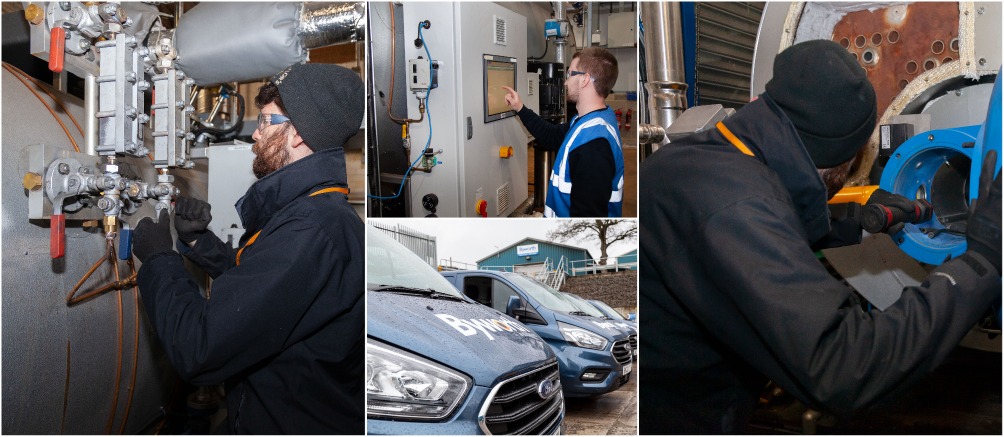 Industrial boiler services
The Importance of Industrial boiler services to maintain a healthy plant
Posted 29th June 2023
As anyone who runs a car knows the basic day to day maintenance of your machinery is the first and best line of defence as with proper care and attention issues can be found early using trend data collected during your checks to allow it to be fixed before the problems become major ones. However, when service time comes round the same as with your car you want to call in the experts.
Why you need help to regularly service your industrial boiler
Because prevention is better than cure!
You can rely on the experience and knowledge that our engineers have gained from many years on the job and as a manufacturer of steam boilers we know how the boilers work from the ground up. Using this important knowledge not only can we ensure your service exceeds the requirements of your insurance company, but we can also suggest upgrades and fixes that could prevent downtime in the future.
What happens when things go wrong
Industrial boiler maintenance is essential to keep your boiler working safely and at maximum efficiency. Things like rust and scale build up can quickly begin to affect the operation of your boiler and in some cases lead to catastrophic boiler failure.
Unplanned boiler failure will have a significant impact on your workflow and process and can result is costly hire charges, repairs and loss of revenue. This is why we strongly suggest you ensure your boiler is serviced by the experts with a Byworth Service Contract.
Service packages
At Byworth we understand that there is no such thing as a one size fits all solution, which is why we offer different levels of service packages to meet your specific needs and requirements. These range from additional service visits to packages that use our award-winning Unity system to help identify ways you could run your boiler more efficiently saving money on water and fuel. We also offer longer term contracts that give you peace of mind not having to worry about renewals each year and include pre-inspection preparation for your 5-year NDT.
Our Service Contracts Manager Richard will be more than happy to discuss the various options available and help find a solution to fit your needs. Contact service@byworth.co.uk for more information.