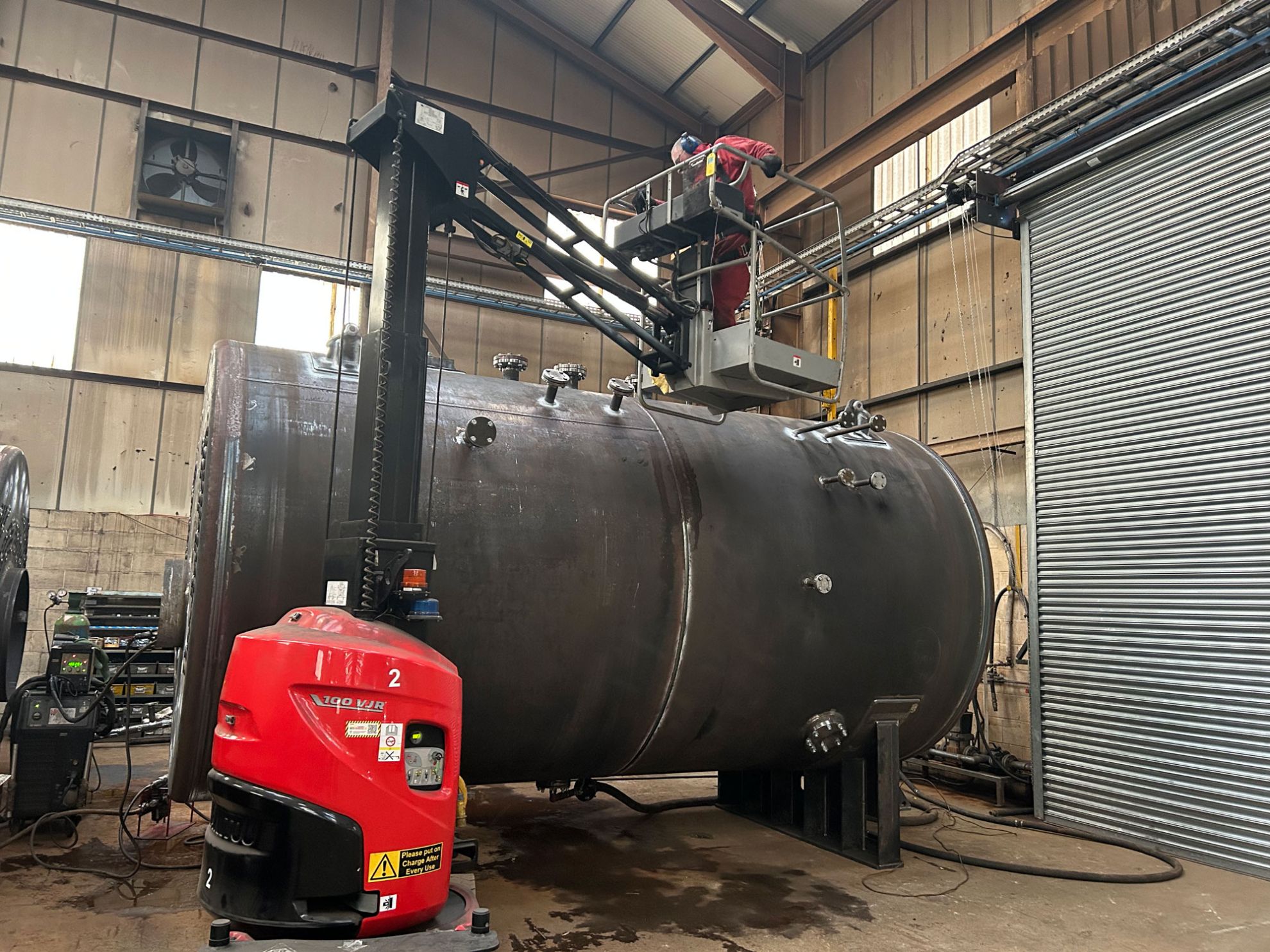 Safety Procedures in the workplace
Volume 1 - Working At Heights
Posted 13th February 2023
Due to the substantial size of the boilers we manufacture, our production team spend a great deal of time working at heights during their working day. Working at heights can be a dangerous job, but following proper safety guidelines can greatly reduce the risk of accidents and injuries. It is essential to understand the hazards associated with working at heights and how to minimize them. In this blog, we will explore some of the best practices and tips for working safely at heights, and discuss the specific procedures we have in place to protect our team.
1 - Use the right equipment
The first and most important step in working at heights is to use the right equipment. This includes using a secure and sturdy ladder, scaffold, or platform, as well as using a harness and other personal protective equipment (PPE). Make sure to follow the manufacturer's instructions and guidelines when using any equipment, and inspect it regularly to ensure that it is in good condition.
2 - Plan ahead
Before you begin work at heights, it is important to plan ahead. This includes identifying the hazards, assessing the risk, and determining the best way to minimize the risk. It is also important to have a clear emergency plan in place in case of an accident or injury.
3. Follow the three-point rule
Whenever you are working at heights, make sure to follow the three-point rule. This means that you should always have three points of contact with the equipment or surface you are working on. This could be two feet and one hand, or two hands and one foot, depending on the situation.
4. Stay focused and alert
5. Use fall protection
Falls are the leading cause of death in the construction industry, and it is essential to use fall protection when working at heights. This includes using a harness, lanyard, and other fall arrest equipment. Make sure to follow the manufacturer's instructions and guidelines when using fall protection, and inspect it regularly to ensure that it is in good condition.
Using Fall protection
A well-conceived fall protection program begins with the identification of fall hazards in the workplace. A general rule, anytime a worker is at a height greater than 1.82 metres a fall hazard exists according to OSHA (Occupational Safety and Health Association). Where a fall hazard exists, there are two acceptable options: eliminate the hazard or provide protection against it.
It may be possible to eliminate or prevent the fall hazard by changing the work procedures, redesigning the working environment, installing a guardrail, or using passive fall protection. When this is not possible use of personal fall protection is required.
Fall protection can be a restraint system to keep the worker from reaching an area where there is a fall hazard, or a personal fall arrest system to allow the worker to work at height.
Our team are fully trained in the correct use of all PPE including their safety harnesses. This ensures the team are always working in a safe environment.